Ford Plastic Surgery: Dr. Derek Ford
410-7 St Thomas Street
Toronto, ON M5S 2B7
Phone: (416) 925-7337
Monday–Friday: 8:30 a.m.–4:30 p.m.

Ford Plastic Surgery: Dr. Derek Ford
305-419 King Street West
Oshawa, ON L1J 2K5
Phone: (905) 743-9888
Monday–Friday: 8:30 a.m.–4:30 p.m.

Eyelid Surgery in the Toronto Area
In Toronto and Oshawa, women and men come to Dr. Derek Ford and Dr. Steven Hanna for eyelid surgery (blepharoplasty) when they want smoother, uplifted, younger-looking eyelids. Dr. Ford is 1 of only 2 plastic surgeons in Canada who is formally trained and certified in oculoplastic surgery, making him an exceptional choice for your procedure. Dr. Ford and Dr. Hanna use their advanced skill to correct sagging skin, loose muscle and ligaments, as well as bulging fat and hollowing around the eyes.
Who Is a Good Candidate for Eyelid Surgery?
Most patients seeking eyelid surgery are 35 years of age or older, although puffy eyes — which are often hereditary — may prompt some younger people to inquire about this procedure. The goal of eyelid rejuvenation is to make the eyes look cleaner and more youthful without changing the shape of the eyelids that frame the eye.
In some patients, the position of the eyebrow may contribute to the appearance of heavy upper eyelids. In these situations, it's important to consider a brow lift procedure instead of or in addition to eyelid surgery to satisfactorily rejuvenate the upper face.
Your Eyelid Surgery Consultation
Your health and safety are our surgeons' top priorities. During your in-office consultation, he will gather the following information:
Pre-existing eye conditions, such as dry eye or glaucoma
Previous eye surgery, including LASIK or laser vision correction
The date of your last eye exam
A recent examination by an optometrist prior to your consultation is important to evaluate eye function. Our surgeons take our patients' wellness and safety very seriously, and they only perform surgery on qualified candidates.
While serious complications are extremely uncommon, your surgeon will discuss the potential risks of blepharoplasty during your consultation. This is simply to be transparent through all phases of the surgical process and make sure you have all the information you need to make a decision about the procedure.
Your health and safety are our surgeons' top priorities.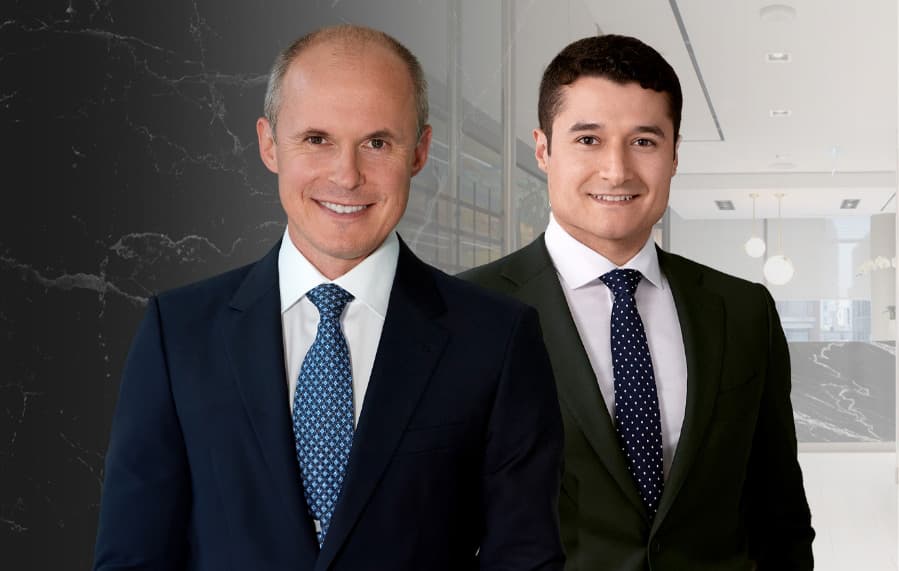 A Talented Duo
With their expertise in facial plastic surgery, Dr. Derek Ford and Dr. Steven Hanna create attractive, natural-looking results using advanced techniques. Both are Fellows of the Royal College of Physicians and Surgeons of Canada who provide compassionate patient care.
Learn more about our surgeons
Meet Dr. Derek Ford
Meet Dr. Steven Hanna
How Much Does Blepharoplasty Cost in the Toronto Area?
The cost for eyelid surgery procedures by Toronto oculoplastic surgeon Dr. Ford and plastic surgeon Dr. Hanna is as follows:
Lower eyelid surgery

: $

7,708

Upper eyelid surgery

: $

6,000

Upper & lower eyelid surgery

: $

11,574

Upper eyelid surgery with endoscopic brow lift

: $

13,602

Upper & lower eyelid surgery with endoscopic brow lift

: $

19,174
*Prices exclude taxes
Review this blog post for more information about eyelid surgery pricing.
Does Insurance Pay for Upper Eyelid Surgery?
If you are getting upper eyelid surgery to improve your field of vision, the Ministry of Health in Ontario will cover the cost, provided that an optometrist documents at least a 50% reduction in your visual field.
Your Upper Eyelid Surgery
Men and women seek eyelid surgery for the upper lids to correct age-related changes, including:
Forehead and glabellar creases
Droop (ptosis) in the lateral eyebrow
Excessive upper eyelid skin and muscle
Hollowing of the area between the lid and the brow
Loss of the upper eyelid fold
Additionally, Dr. Ford and Dr. Hanna specialize in Asian eyelid surgery for individuals who want a double eyelid (single crease) instead of a single eyelid (absent crease).
Assessment
It is important for your surgeon to perform an organized, sequential assessment of your upper eyelid and brow during the consultation process. He carefully evaluates your brow for droopiness (ptosis) and symmetry. In women, it is desirable for the brows to arch laterally. Most men, however, request a straighter, more horizontal position. If brow laxity is not corrected, or if the brow is not properly stabilized, it can contribute to further sagging after surgery.
A gland in the outer area of the upper eyelid may also drop with age, creating a sad or tired appearance. This gland may need to be re-suspended at the time of upper eyelid surgery in order to ensure a clean-looking upper eyelid contour.
When examining the upper eyelid, your surgeon looks for the presence of upper eyelid sagging. This looks like a droopy upper eyelid without a crease, and your surgeon can correct this with eyelid surgery. He also evaluates any asymmetries and the amount of fat framing the upper eyelid. With age, the upper eyelid becomes hollow-looking, and it is important not to remove upper eyelid fat during surgery. In some cases, your surgeon even adds fat to this area or uses an injectable hyaluronic acid filler, such as JUVÉDERM®.
Bulging or prominent eyes may appear as the result of a thyroid condition and require a medical evaluation prior to surgery.
Eyelid Surgery Incision Locations
Dr. Ford makes discreet incisions for both upper and lower blepharoplasty. In upper eyelid surgery, the incision is camouflaged in the eyelid's natural crease. Lower eyelid surgery usually involves a thin incision just below the lash line, but in some cases, Dr. Ford makes the incision inside the lower eyelid.
How Is Upper Eyelid Surgery Done?
Our surgeons typically perform upper eyelid surgery with the patient under local anesthesia, but he may use general anesthesia if the surgery is combined with other procedures. Most eyelid surgery procedures take about 1 hour to perform.
During surgery, your surgeon makes an incision along the upper eyelid crease — the point where the upper eyelid skin transitions from being fixed to being loose on the lid. He removes a crescent-shaped piece of excess skin and muscle in a conservative fashion, especially since it's vital to leave enough tissue to allow for full eyelid closure. Since this area can become hollow with age, our surgeons take great care not to remove upper eyelid fat during surgery. In some cases, they even add fat to this area or uses an injectable hyaluronic acid filler, such as JUVÉDERM®. By allowing the upper eyelid fat to fall down to the crease, a symmetrical, gentle arch above the upper eyelid fold is created.
Your surgeon closes the incision using non-absorbable sutures. They use meticulous techniques to reduce tension on the incision for a superior, discreet scar.
Your Lower Eyelid Surgery
Men and women seek eyelid surgery for the lower lids to correct age-related changes that include:
Skin and muscle laxity that may result in wrinkles
Ligament laxity and rounding of the lower eyelid shape
Bulging fat beneath the eyes
A deepening groove between the lower eyelid and cheek
Assessment
Before surgery, your surgeon evaluates both the lower eyelid and cheek. He also assesses the shape and canthal tilt of the lids. A negative canthal tilt occurs when the outer eyes appear lower than the inner eyes. This may indicate lower lid laxity as the result of aging or the presence of a prominent eye. People with prominent or bulging eyes are often at a higher risk of complications. For these patients, the surgeon tailors his technique to make the surgery as safe as possible.
Your surgeon also examines the lower eyelid for laxity. He notes the presence of "scleral show" (visible white below the iris), excess skin and muscle, and protruding fat bags, and deep tear troughs.
How Is Lower Eyelid Surgery Done?
Our surgeons prefer to perform lower eyelid surgery using general anesthesia. Because the procedure typically takes 2 hours to perform, general anesthesia is a good way to ensure patient comfort and safety. The surgeon makes a long, thin incision just below the lower lash line. He manipulates the underlying muscle, raising it to create a cleaner and more alert appearance. Often, he also raises the cheek tissue, blending the lower eyelid with the cheek for a more natural-looking delineation. He removes any excess skin and closes the incision with sutures. He also uses sutures to splint the outer upper and lower lids together. All of these sutures are removed 7 days after surgery.
See What's Possible
Our practice offers Crisalix, a way for patients to preview their results in 3-D. This adds a tangible, visual element to your planning process, giving you and Dr. Ford a common, beautiful goal.
Learn More
What Can I Expect After Eyelid Surgery?
For the first 72 hours after your surgery, your surgeon recommends keeping your head elevated and applying clean, cool compresses to your eyes. He suggests the application of ophthalmic antibiotic ointment to the incisions and into the eye to reduce the loss of the protective tear film. Patients who do not have a history of glaucoma may use a fluorometholone 0.1% ophthalmic suspension to minimize early inflammation.
Eyelid Surgery Recovery
Swelling and bruising around your eyes are common after blepharoplasty. Your surgeon recommends keeping your activity level minimal for the first 2 weeks after surgery, although you are encouraged to take short walks around your house to reduce the risk of blood clots. Typically, the recovery process involves the following:
Bruising and swelling: These issues usually peak 2 to 3 days after surgery, but nearly all bruising and swelling subside about 3 weeks after the procedure.
Sutures: Your stitches will be removed at your first follow-up visit, about 7 to 10 days after your surgery.
Bathing: You may shower and shampoo your hair daily while at home.
Makeup: Applying foundation and other makeup is allowed once your sutures are removed.
Activity: You can resume normal activities after 2 weeks and exercise after 4 to 6 weeks.
Travel: Delay any travel for at least 2 weeks after surgery.
Scars: Protecting your eyelid skin from sunlight is important during recovery and beyond. Beginning 6 weeks after surgery, massage your scars and apply a silicone scar cream twice a day. Continue this regimen for 3 to 6 months to minimize your scars.
Is It OK To Combine Eyelid Surgery With Other Procedures?
Although it can produce beautiful results on its own, blepharoplasty is often performed in conjunction with other procedures for a more profound result. Typical pairings include endoscopic brow lift, facelift and neck lift, and micro fat grafting.
When Should You Consider a Nonsurgical Solution?
For patients interested in lower eyelid rejuvenation without surgery, our surgeons often recommend treatment with an injectable hyaluronic acid filler such as JUVÉDERM. These products can fill in the tear trough, which is the depressed groove between the puffy lower eyelid and cheek. Although this option doesn't replace the results that can be achieved with formal eyelid surgery, it does offer an in-office nonsurgical alternative that reduces the appearance of lower eyelid aging. Glabellar furrows (between the eyebrows) and crow's feet at the outer corner of the eyes are best addressed with the use of injectable neuromodulators such as BOTOX® Cosmetic. Learn more about nonsurgical alternatives to eyelid surgery in this blog post.
Eyelid Surgery FAQ
When Can I Wear Makeup After Eyelid Surgery?
You may begin wearing makeup 10 days after eyelid surgery.
---
How long do I have to take off work after eyelid surgery?
The exact recovery time needed varies from patient to patient, but our surgeons usually recommend taking at least a week off after eyelid surgery. Of course, the nature of your job will also be a factor in determining the amount of time off needed. If your occupation involves strenuous activity, you may need to extend your time off by an additional week.
---
Does lower eyelid surgery remove dark circles under the eyes?
Lower blepharoplasty can be an appropriate treatment for patients concerned about dark circles, but it depends on the cause. Sometimes large bags or hollowness in the area of the tear trough creates shadows, an issue that can be improved by repositioning fat during blepharoplasty. However, surgery cannot address dark circles caused by excessive pigmentation, thin skin, or allergies.
---
How long does an eyelid lift last?
Lower eyelid surgery results should last indefinitely, but skin continues to age and wrinkles may develop. Upper blepharoplasty results typically last at least 5 to 10 years, as the procedure does not stop the aging process.
---
Does an upper blepharoplasty fix hooded eyes?
Yes, upper eyelid surgery removes the loose, sagging skin that causes the appearance of hooded eyes. However, a brow lift may also be necessary if the brow is sagging too.
---
Do they put you to sleep for eyelid surgery?
A local anesthetic is usually used for standalone eyelid surgeries, although your surgeon may put you under general anesthesia if you are having other surgeries done at the same time.
---
Request Your Eyelid Surgery Consultation
If you think your eyelids need a lift, request a consultation online with one of our surgeons, or call our Toronto office at (416) 925-7337 or our Oshawa office at (905) 743-9888 to schedule your appointment.