Ford Plastic Surgery: Dr. Derek Ford
410-7 St Thomas Street
Toronto, ON M5S 2B7
Phone: (416) 925-7337
Monday–Friday: 8:30 a.m.–4:30 p.m.

Ford Plastic Surgery: Dr. Derek Ford
305-419 King Street West
Oshawa, ON L1J 2K5
Phone: (905) 743-9888
Monday–Friday: 8:30 a.m.–4:30 p.m.

Our Locations
Whether you're planning a life-changing surgical transformation or a quick aesthetic touch-up, Dr. Derek Ford is pleased to offer 2 office locations to meet your needs. With offices in both Oshawa and Toronto, plastic surgery by Dr. Ford is just as accessible as it is reliable.
When you're ready to learn more, contact us online or call our Toronto office at (416) 925-7337 or our Oshawa office at (905) 743-9888 to schedule a consultation.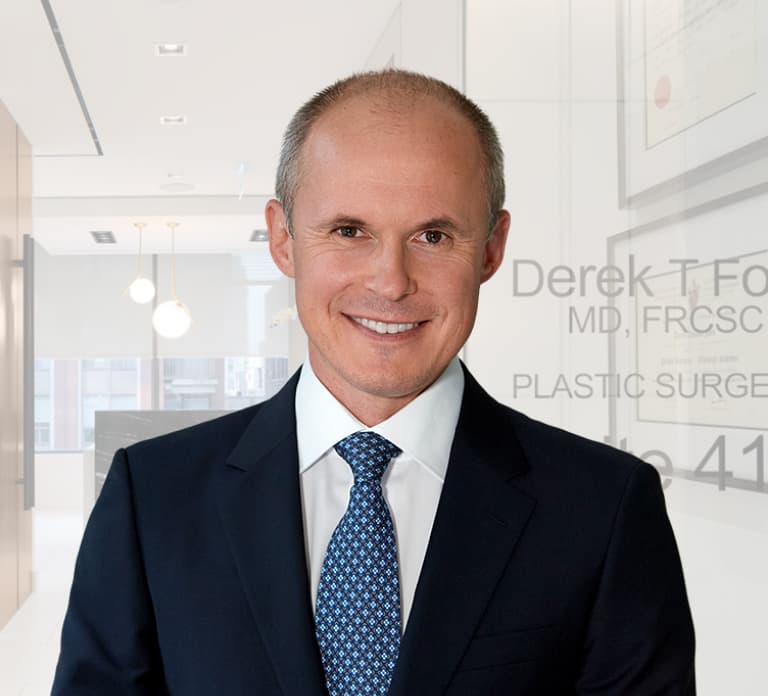 Derek Ford, MD FRCSC
Working hard to keep himself and his practice on the leading edge of aesthetic medicine. Learn more about what sets him apart.
Meet Dr. Derek Ford
Request a Consultation
Credentials you can trust:
Our urban Toronto office is the perfect location for busy professionals and other men and women who live or work in the city. Learn more about this location.
Our Toronto location is a modern, tasteful office situated just around the corner from lovely Ramsden Park in Yorkville. Dr. Ford primarily operates at this facility. It is also equipped for patients who require an overnight stay. Although ample parking is available on Roxborough Street, Pears Avenue, and Hazelton Lane, this urban location is also accessible by subway (via the Rosedale or Museum station). If you're visiting our Toronto location from out of town, we recommend the following accommodations for an exceptional stay that's close to the office:
Patients in suburban Oshawa can enjoy the same great service a bit closer to home. Located in the professional tower of the Oshawa Centre mall, local patients can enjoy ample parking and an afternoon of shopping in addition to our medical spa or consultative services. Learn more about this location.

Lakeridge Health
1 Hospital Ct
Oshawa, ON L1G 2B9, Canada
Dr. Ford maintains active privileges at Lakeridge Health, which is where he performs reconstructive procedures including breast reconstruction. Other procedures that are covered by the Ministry of Health are performed at this facility.
Dr. Ford performs most of his operations in the same building as his Toronto office at 7 St Thomas Street. The operating facility features state-of-the-art technology and can accommodate patients who need to spend the night following their procedures. Learn more about this location.