Ford Plastic Surgery: Dr. Derek Ford
410-7 St Thomas Street
Toronto, ON M5S 2B7
Phone: (416) 925-7337
Monday–Friday: 8:30 a.m.–4:30 p.m.

Ford Plastic Surgery: Dr. Derek Ford
305-419 King Street West
Oshawa, ON L1J 2K5
Phone: (905) 743-9888
Monday–Friday: 8:30 a.m.–4:30 p.m.

Medical Spa
At Ford Plastic Surgery, we know that healthy skin is the foundation of lifelong beauty. In addition to plastic surgery services, we are pleased to provide comprehensive skin care and medical spa services to Toronto-area men and women. Whether you're interested in complementing the results of your plastic surgery or improving scars or other imperfections, Dr. Ford, Dr. Hanna, and our skincare team are ready to help. Our goal is to help you look and feel your best from the inside out.
Patient Results
See the possibilities of Dr. Ford's work for yourself when you visit our gallery of real patient before-and-after photos.
View Photo Gallery
Designed to tighten and renew skin, the Morpheus8 RF microneedling device uses radiofrequency energy combined with microneedling to stimulate collagen production to tighten and improve skin's appearance on the face, neck, chest and body. Treatments can be customized based on your needs and the size of the treatment area. This treatment offers noticeable effects with minimal downtime.
Facials
OxyGeneo™ Glow Facial
This 3-in-1 treatment exfoliates, infuses, and oxygenates skin to help you glow from within. Suitable for all skin types and ethnicities, this facial removes dead skin cells through exfoliation, then infuses your skin with revitalizing nutrients to stimulate collagen and plump the skin. Top it off with deep oxygenation, and you'll get that natural, youthful glow.
The Custom CW Facial
Caroline's signature facial is designed to address your unique skincare needs and achieve noticeable results. She customizes the facial using microdermabrasion, a retexturizing enzyme or a clay mask (depending on your skin condition), combined with a soothing face mask and eye treatment pads to leave your skin glowing and healthy.
Medical-Grade Chemical Peels
Customized to suit your skincare needs, these pure peel formulations are designed to noticeably improve skin's tone and texture, remove dead skin cells, and promote new skin growth to reveal fresh, glowing skin. These chemical peels help regrow layers of skin to thicken the epidermis, resulting in improved volume and thickness of skin and a reduction of fine lines and wrinkles. By removing dead skin cells, skin can better absorb skincare products to help stimulate new cell growth. We include a nourishing take-home post-procedure kit with this treatment.
Advanced Peel Facial
This facial treatment combines the effects of a skincare facial with a chemical peel to repair and refresh skin. Designed for patients who have had chemical peels and facials in the past and follow proper skincare regimens, this treatment refines and retexturizes the skin to leave you looking refreshed. The facial begins with a soothing face mask with eye treatment pads, followed by microdermabrasion, a refining clay mask or enzyme retexturizing treatment as recommended by your esthetician. The facial is then followed by a customized chemical peel, and you are provided with a take-home post-procedure kit to soothe skin after treatment.
Laser Skin Resurfacing
Profractional® Laser
This laser skin resurfacing treatment is designed to treat advanced signs of aging and other stubborn skin conditions to achieve noticeable, long-term results.
If you are bothered by the appearance of lines and wrinkles, age spots, loose skin, acne scars, or stretch marks, the Profractional Laser can help restore your skin's radiance. By focusing the laser energy on a portion of the skin and leaving the surrounding tissue intact, this laser penetrates to the deeper layers of the skin to rejuvenate skin from the inside out while shortening your recovery time. You will have noticeable improvement to skin's tone and texture with this laser skin resurfacing treatment.
Erbium Contour TRL®
This laser skin resurfacing treatment uses tunable (customizable) laser energy to remove the top layer of skin, revealing refreshed and renewed skin. Designed to target fine lines and wrinkles around the eyes, mouth, and on the neck, age spots and sun damage, scars, loose skin, and rough, uneven skin texture, this laser works to treat a variety of skin concerns. Each treatment is customized to suit your unique needs, enabling us to design a treatment plan just for you.
Virtual Consultations
Caroline offers virtual skincare consultations to address skin concerns and help you build a customized at-home skincare routine. To book a virtual skincare consultation, please e-mail Caroline at [email protected].
Let's Connect
To learn even more about our Toronto-area skin care and medical spa services, request a consultation online or call our Toronto office at (416) 925-7337 or our Oshawa office at (905) 743-9888.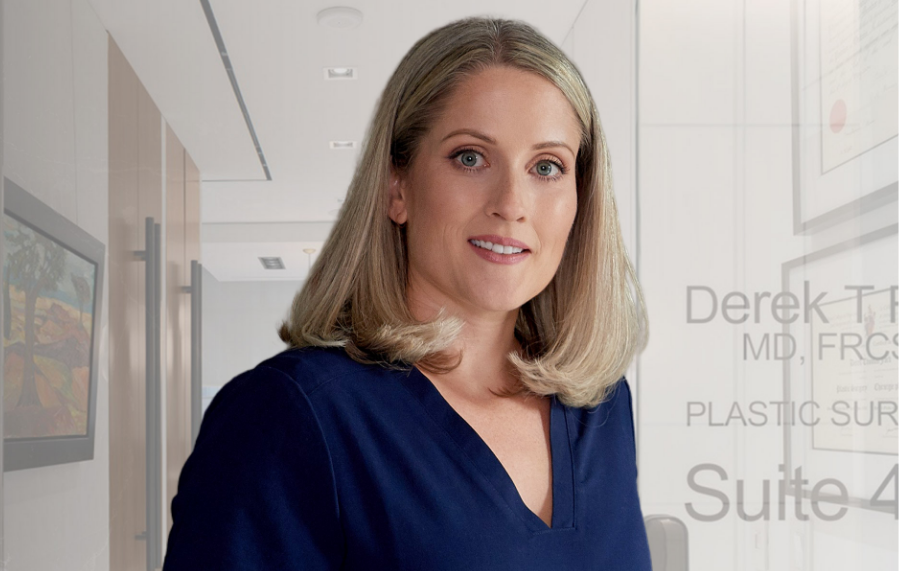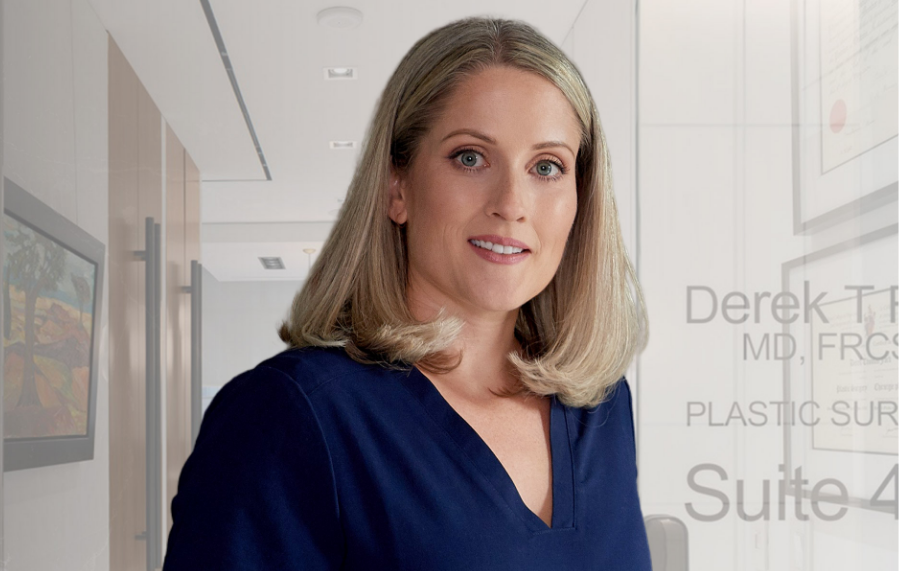 Caroline Watson, Aesthetician
With a passion for skin care nurtured by more than 20 years of experience in the beauty industry, Caroline uses her expertise to address each patient's unique needs. Besides performing nonsurgical treatments such as microneedling in the office, Caroline helps patients create at-home skincare regimens to maintain healthy, glowing skin.
Meet Caroline Watson