Ford Plastic Surgery: Dr. Derek Ford
410-7 St Thomas Street
Toronto, ON M5S 2B7
Phone: (416) 925-7337
Monday–Friday: 8:30 a.m.–4:30 p.m.

Ford Plastic Surgery: Dr. Derek Ford
305-419 King Street West
Oshawa, ON L1J 2K5
Phone: (905) 743-9888
Monday–Friday: 8:30 a.m.–4:30 p.m.

Facelift & Neck Lift
Royal College-certified plastic surgeons Dr. Derek Ford and Dr. Steven Hanna perform facelift and neck lift procedures to address the numerous age-related changes that affect these areas. Wrinkles, lines, loss of volume, and skin and muscle laxity all combine to create the look we associate with an aging face. Face and neck lifts address these concerns in a comprehensive way, one that goes beyond skin tightening. Today's techniques reshape the face and neck and create a more youthful, streamlined facial contour by tightening the underlying muscles of the face.
A Facelift Specialist
For the best facelift results, it's important to choose your plastic surgeon in Toronto carefully. Dr. Ford and Dr. Hanna have trained with several of the world's most renowned pioneers in facial surgery and endoscopic techniques and can offer numerous less-invasive options. Dr. Ford also teaches facelift surgery at the University of Toronto, so he remains at the forefront of research and technology. Our surgeons use a customized approach for each patient, adjusting the details of surgery to create the precise result desired.
Who Is a Good Candidate for a Facelift?
Women and men choose facelift surgery to reduce signs of aging in the lower face and neck, which include:
Folds, wrinkles, discoloration, and thinning of the skin
Deepening of natural facial creases, including the tear trough, nasolabial folds, and marionette lines
Drooping of soft tissue, particularly the lower cheeks and neck
Loss of volume in the upper two‐thirds of the face, resulting in hollow‐looking cheeks
Widening of the neck and jawline, resulting in the formation of jowls and neck fullness
Laxity of the platysma muscle, which creates neck bands
Face and neck lift surgeries are often performed together for more comprehensive results. Fat grafting or filler injections can complement the procedure, as well, by restoring volume to sunken cheeks, hollows around the eyes, and other areas.
What Are the Different Types of Facelifts?
Our surgeons offer many advanced options for facelift surgery, each personalized to the patient's unique facial anatomy and desired improvements. Options include:
Full facelift: Also called a complete facelift, the full facelift rejuvenates the lower 2/3 of the face. It provides the most significant results while still looking natural. Our surgeons provide long-lasting, natural-looking results by lifting the upper layer of skin as well as the deeper SMAS layer (superficial muscular aponeurotic system), which includes the muscles that control facial expressions. In earlier techniques, only the skin was lifted and tightened during a facelift, not the underlying muscles.
Mini facelift: This technique, also called a limited incision facelift, corrects early signs of aging in the lower face. While recovery is typically shorter than for a full facelift, the correction is not as significant.
Our surgeons usually combine the full facelift with a neck lift to address a double chin and other fat deposits on the neck, correct vertical neck banding, and tighten lax skin.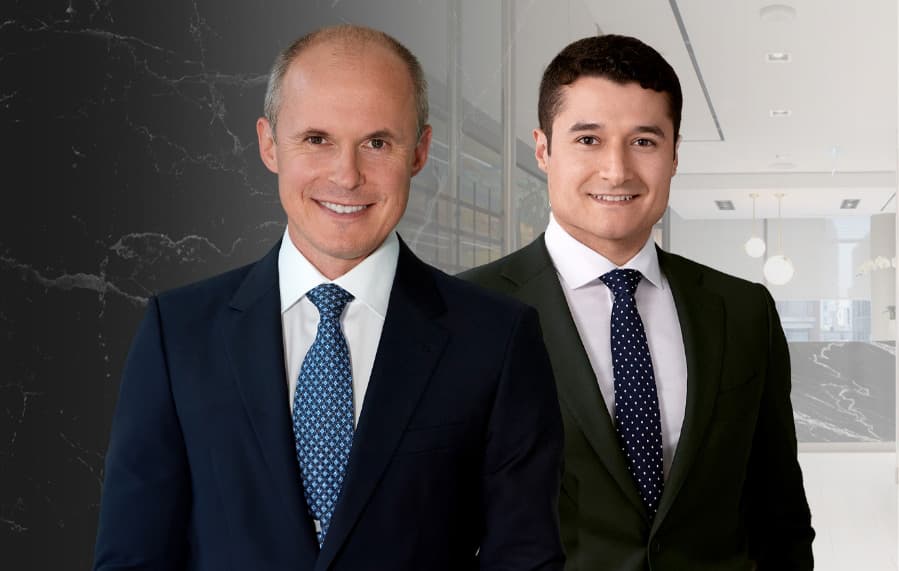 A Talented Duo
With their expertise in facial plastic surgery, Dr. Derek Ford and Dr. Steven Hanna create attractive, natural-looking results using advanced techniques. Both are Fellows of the Royal College of Physicians and Surgeons of Canada who provide compassionate patient care.
Learn more about our surgeons
Meet Dr. Derek Ford
Meet Dr. Steven Hanna
How Much Does a Facelift Cost in Toronto?
The prices for frequently performed facelift procedures are as follows:
Facelift and neck lift: $20,771
Facelift and neck lift with lower blepharoplasty: $28,129
Facelift and neck lift with upper blepharoplasty: $25,798
Facelift and neck lift with upper & lower blepharoplasty: $31,049
Short scar facelift: $18,590
Short scar facelift with upper & lower blepharoplasty: $29,835
*Prices exclude taxes
Neck Lift Surgery
When the only concern is neck skin laxity and wrinkling, a neck lift can be performed as a stand-alone procedure. However, most people who experience loose, sagging skin on their necks also have similar aging issues with facial skin, so neck lift surgery is often combined with facelift surgery for comprehensive rejuvenation.
Combining Eyelid Surgery With Your Facelift
Because aging often affects more than the lower face, many patients choose to combine their facelift and neck lift procedures with eyelid surgery. This procedure, which may be performed on the upper eyelids, lower eyelids, or both, restores a refreshed, more youthful look to the upper face.
Tightens lax eyelid skin and muscle
Reduces pockets of fat that develop around the eyes
Softens puffy under‐eye bags
Together, a facelift, neck lift, and eyelid surgery provide a more comprehensive facial rejuvenation. Your surgeon may also recommend a brow lift to extend the improvements up to the hairline. Combining procedures reduces exposure to anesthetic, overall costs, and recovery time (compared with having each procedure performed separately).
Combining Brow Lift Surgery With Your Facelift
A heavy, drooping brow may accentuate aging in the lower face, causing a grumpy, aged, or tired look. Often called a forehead lift, a brow lift achieves several goals:
Repositions a heavy brow to a more youthful position
Restores a younger-looking arch to the eyebrow
Smooths deep forehead lines
Combining a brow lift with a facelift provides comprehensive results, addressing skin laxity and wrinkling on both the upper and lower parts of the face.
Your Facelift Consultation
Your consultation is an opportunity for your surgeon to get to know you and your expectations to determine the proper course of treatment. He recommends coming to your consultation with old photographs of yourself. With these, he can assess your entire face in different positions, noting natural asymmetries and pre‐existing weakness. Your surgeon may recommend fat grafting to augment a thin face. He may also recommend skin enhancement treatments or products, as a facelift does not address the texture and quality of the skin.
It's important to identify whether you have a history of high blood pressure or use any medications or supplements that can contribute to bleeding. These factors can cause complications during or after surgery. If you smoke, our surgeons advise you to stop at least 3 weeks before surgery as the habit can impair your body's natural healing functions and cause excessive scarring. Additionally, hormone replacement therapy can increase the risk of blood clots, so you may also need to temporarily stop those medications at least 3 weeks before surgery.
See What's Possible
Our practice offers Crisalix, a way for patients to preview their results in 3-D. This adds a tangible, visual element to your planning process, giving you and Dr. Ford a common, beautiful goal.
Learn More
About Your Facelift Surgery
Our surgeons perform facelift surgery using general anesthesia to ensure patients are safe and comfortable throughout the procedure. In a typical face and neck lift, your surgeon makes an incision around the ears and just behind the hairline. He tightens the underlying muscles, including the deeper layer of the face called the SMAS. This aims to restore a more youthful, heart‐shaped face rather than the square or bottom‐heavy look of the aging face. He removes excess skin in a conservative fashion and avoids creating tension, which can inhibit optimal healing.
Is Facelift Surgery Safe?
Face and neck lift surgeries are complex procedures that require a good deal of expertise and care to perform. However, when performed by a trained professional, such as Dr. Ford or Dr. Hanna, these surgeries are exceedingly safe. By following your surgeon's care instructions before and after surgery, you can ensure a safe and comfortable process and results that last for years.
How Long Is Recovery From a Facelift?
Patients undergoing a full facelift usually stay overnight for maximum safety and comfort. After your facelift, it's common to feel a sensation of tightness and itchiness, especially near your incisions. This is normal and will resolve over the course of a few days. Because of the complex vascular structures in the face, bruising and swelling are common. Therefore, while you may feel physically well enough to return to some of your regular activities, you may still feel too self‐conscious to be in social situations. Your surgeon prescribes pain medication and may also provide you with a topical ointment to keep your incisions clean and soft while they heal.
Facelift Recovery Tips
Have an adult stay with you for at least the first day to help with your meals and hygiene.
Keep your head upright as much as possible, even while sleeping, for the first 2 weeks.
Get plenty of rest to give yourself time to heal.
Avoid bending, heavy lifting, and strenuous exercise for at least 2 weeks.
As you heal, your surgeon will advise you on gradually resuming exercise, work, and daily activities.
Dr. Ford and Dr. Hanna use a customized approach for each patient, adjusting the details of surgery to create the precise result desired.
Face & Neck Lift After Care
Those recovering from face or neck lift surgery can benefit from a few specialized recovery tips. Below are some suggestions we offer to our patients.
Post-Surgery
Elevate your head and shoulders at 45 degrees when in bed. Move your ankles and knees while resting to reduce your risk of post-operative blood clots from developing in the deep veins in your legs.
Apply a refrigerated moist washcloth to your face to reduce swelling for the first 72 hours following surgery. Direct ice-to-skin is discouraged as this may injure your skin.
Please shower with soap and water. Wash with shampoo daily while at home.
Wear loose-fitting clothing that does not pull over your head. Avoid turtlenecks or tight scarves as they may compromise the blood supply to your surgical sites.
The skin of your face is sensitive to sunlight after surgery. Protect your facial skin from excessive exposure by wearing a wide brim hat and sunscreen (SPF 30 or higher with UVA and UVB protection).
Cosmetics may be applied once the sutures have been removed, typically 10 days following surgery. This can include foundation or concealer to camouflage any bruising that may persist for 2 to 3 weeks post-surgery.
Your face and neck will temporarily feel tight but not necessarily look tight. There will be a feeling of numbness in your face and neck for a few weeks to months after surgery. This is normal, and the tight feeling and numbness will disappear over time.
It is important to follow up with your surgeon following your surgery. He will see you in a follow-up meeting at 1 week, 3 to 6 weeks, 3 to 6 months, and 1 year post-surgery. Please call

(416) 925-7337

to schedule your appointments at either of our Toronto or Oshawa locations.
Things To Avoid
Avoid flexing your neck for the first 2 weeks.
Avoid turning your head to either side as this will pull on the stitch lines. To turn, move your head and shoulders as a unit.
Facial movements such as smiling and yawning should be kept to a minimum during the first week following surgery.
Avoid using a curling iron for your hair, as the skin on your face will be sensitive and contact could result in a burn.
Avoid colouring your hair for at least 3 weeks after surgery.
When drying your hair with a blow dryer, use a cool air setting.
Do not use hairspray, conditioner, or hair gels while your stitches and clips are in place. Wash your face gently, and when using a moisturizer be careful to keep away from the stitch lines.
Scar Care
Apply a silicone cream (Kelo-cote) to your incisions twice daily (morning and night) starting at 6 weeks post-surgery and for a period of 3 to 6 months.
Massage your scars before the application of Kelo-cote twice daily.
Apply SPF 30 or greater to protect scars when outdoors. Wear a hat or keep your hair down to minimize the risk of scar hyperpigmentation.
Use ZO Skin Health products to further reduce hyperpigmentation and improve skin quality following surgery. Kelo-cote and ZO Skin Health products may be purchased from Ford Plastic Surgery.
Emergencies
Call your healthcare provider or the ER if you experience any of the following symptoms after surgery.
Pain levels not relieved by pain medication
Acute onset of swelling on one side of your face or neck, significantly more pronounced than the other side
A fever (temperature greater than 38.5°C), redness, or increased pain at the site of your surgical incisons
Swelling and pain in your calves
Acute chest pain or shortness of breath
Nausea, vomiting, rash, shortness of breath, or diarrhea after taking your medication
Nausea and vomiting that prevents you from drinking or eating
Facelift & Neck Lift FAQ
What is the best age for facelift?
Age matters less than the degree of sagging skin when assessing whether you're a good candidate for a facelift. Genetics and a range of lifestyle factors determine the rate at which we age. In general, most facelift patients come to us in their late 40s and 50s, but both younger and older men and women can also benefit.
---
How long do facelift results last?
Because a facelift and neck lift actually tighten and reposition the tissues and muscles, the results can last for many years — but remember that the aging process continues after surgery. Think of it this way: Plastic surgery can turn back the clock, but it doesn't stop it.
---
Should I be concerned about facelift scars?
Our surgeons are careful to make incisions that result in very discreet scars. Few people, if any, will notice them once you have healed. And because of the scar placement, you won't even have to style your hair differently to conceal them.
---
How many years younger, on average, do facelift patients look after surgery?
Those who've had facelift surgery say they look an average of 12 years younger, according to a study published in the journal Plastic and Reconstructive Surgery. Another study found that facelift patients appear nearly 6 years younger.
---
How painful is a facelift?
Like any surgery, there will be some discomfort after a facelift, but it can be managed with prescription or over-the-counter pain medication. Pain tends to peak 2 to 4 days after facelift surgery, with patients often reporting that their face feels tight, heavy, or numb. These sensations gradually resolve as swelling diminishes and the incisions heal.
---
Are there nonsurgical alternatives to a facelift?
When signs of aging are mild, BOTOX Cosmetic® and dermal fillers may be used for a nonsurgical facelift. BOTOX reduces the appearance of expression lines such as crow's feet. Dermal fillers smooth out marionette lines and other deep folds, and they restore lost volume in the cheeks, temples, and tear troughs. Because these two injectables complement one another for a full-face rejuvenation, the combination is often called a "liquid facelift."
---
If you are interested in a neck or facelift, request a consultation online with one of our surgeons, or call our Toronto office at (416) 925-7337 or our Oshawa office at (905) 743-9888 to schedule your appointment.