Ford Plastic Surgery: Dr. Derek Ford
410-7 St Thomas Street
Toronto, ON M5S 2B7
Phone: (416) 925-7337
Monday–Friday: 8:30 a.m.–4:30 p.m.

Ford Plastic Surgery: Dr. Derek Ford
305-419 King Street West
Oshawa, ON L1J 2K5
Phone: (905) 743-9888
Monday–Friday: 8:30 a.m.–4:30 p.m.

Before & After Surgery
If you are thinking of undergoing plastic surgery here in Toronto, the surgeons at Ford Plastic Surgery want to make sure you are as prepared as possible for all elements of the process, from safely preparing for the procedure to caring for yourself properly in the days, weeks, and months that follow. Here, review our simple bulleted list for our recommended guidelines at all phases of your experience.
If you have questions at any point during your journey with Ford Plastic Surgery, contact us online or call our Toronto office at (416) 925-7337 or our Oshawa office at (905) 743-9888.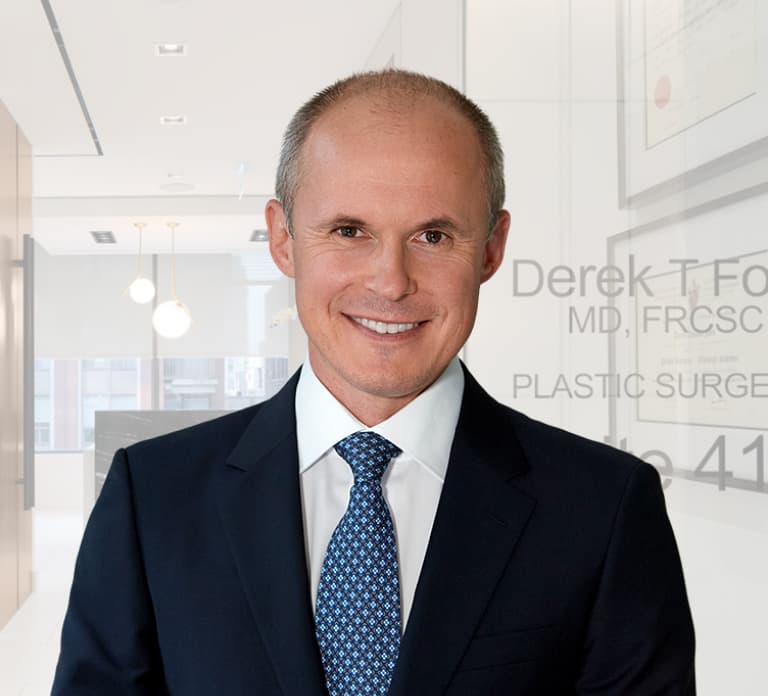 Derek Ford, MD FRCSC
Working hard to keep himself and his practice on the leading edge of aesthetic medicine. Learn more about what sets him apart.
Meet Dr. Derek Ford
Request a Consultation
Credentials you can trust:
Preparing for Surgery
Avoid Smoking & Secondhand Smoke: Smoking reduces circulation to the skin and impedes healing.
Take Multivitamins: Incorporate vitamin C and zinc into your diet. They promote healing and help improve your general health before your scheduled surgery.
Avoid Vitamin E, Aspirin, Ibuprofen (Advil), and Coumadin (Warfarin): These supplements will increase your tendency to bleed. Please refrain from taking these products 2 weeks prior and 1-week post-surgery. Acetaminophen (Tylenol) is permitted.
Organize Your Prescriptions: Although we call your prescriptions into your preferred pharmacy before surgery, they are to be used only after surgery. We recommend picking them up in advance to ensure you are fully prepared to recuperate at home.
Complete Your Lab Work: Please complete your required blood work and ECG before surgery. Our practice will provide you with a lab requisition.
Day Prior to Surgery
Confirm Your Surgery Time: Our staff will contact you by telephone the week before your surgery to confirm your arrival time.
Properly Cleanse Your Body: The night before your surgery, bathe yourself thoroughly using Phisoderm or another brand of antiseptic skin cleanser.
Begin Fasting: Do not eat or drink anything, including water, after midnight the night before surgery.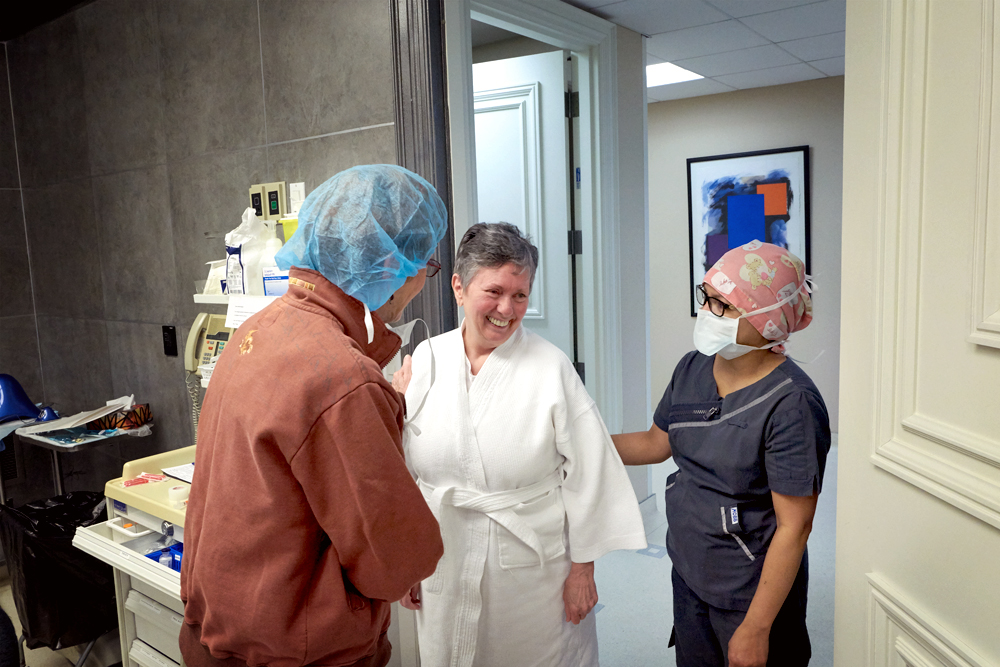 Morning of Surgery
Maintain Your Fast: Continue to avoid food and drink the entire morning before your surgery.
Watch Your Hygiene: You may brush your teeth, but do not swallow the water. Shower and wash the surgical areas again with Phisoderm or your preferred antiseptic skin cleanser, and please do not apply moisturizers, creams, lotions, or makeup of any kind.
Dress Comfortably: Wear only comfortable, loose-fitting clothing and flat shoes. Ensure that any tops you wear do not need to be lifted over your head. Do not wear contact lenses. Instead, bring along your eyeglasses if appropriate. As a precautionary measure, valuables such as jewelry should be left at home.
At the Clinic
Our Toronto Operating Facility
Please plan to arrive at least 1 hour before the scheduled time of your procedure unless otherwise instructed.
Upon your arrival at the St. Thomas Surgical Centre, proceed to the second floor by way of the elevator.
Once on the second floor, proceed to Suite 211. A nurse will greet and admit you.
Our Yorkville Operating Facility
Please plan to arrive at least 1 hour before the scheduled time of your procedure unless otherwise instructed.
Upon your arrival, press the "Surgical Suites" buzzer to gain entrance.
Proceed to the third floor by way of the elevator.
Once you reach the third floor, press the buzzer on the waiting room door to gain entrance. A nurse will greet and admit you.
After Surgery
The following bullet points are general guidelines that are typically recommended after most surgeries. However, your surgeon will give you more detailed instructions that reflect the specifics of your surgery.
Contact A Loved One: Following surgery, you will be taken to the recovery room. You will be discharged the day of your surgery unless you are staying overnight. A friend or family member will need to drive you home, and they may call the Toronto St. Thomas Surgical Centre at (416) 781-6100 or at the Yorkville surgical suites at

(416) 961-6044

to organize your pick-up. Arrange care at home for the first 72 hours after your procedure.
Use Your Medication: Please take prescribed pain medication every 4 to 6 hours as needed, as well as any antibiotics as prescribed. Do not take this medicine if you are not experiencing any pain. Please refrain from drinking alcohol while you are taking pain medication. Apply the prescribed antibiotic ointment to your incisions twice daily.
Watch Your Diet: It's best to keep a light diet immediately after surgery. Begin with soups, fruit smoothies, yogurt, and juices. As time passes, you can switch to high-protein items such as pre-cut fish, poultry, or red meat. Pasta, mashed potatoes, and oatmeal are good carbohydrate options.
Monitor Your Activity Levels: You can plan to gradually resume your normal activities between 1 and 2 weeks after surgery. However, you should avoid exercise and other strenuous activities for about 4 to 6 weeks following surgery. You're typically scheduled for a follow-up visit 1 week after your procedure.
Things to Avoid
Tight-fitting clothes that are hard to move in.
Straining, especially for the first 10 days after surgery.
Flexing your affected muscles.
Spending excessive time in bed. Staying sedentary for too long can increase your risk of blood clots.
Smoking, as it may contribute to poor healing.
Sun exposure or sunbathing while your scars are healing.
Travel. For at least 2 weeks after surgery, stay close to home for your safety and comfort.
Face & Neck Lift After Care
Those recovering from face or neck lift surgery can benefit from a few specialized tips. Below are some suggestions we offer to our patients.
Post-Surgery
Elevate your head and shoulders at 45 degrees when in bed. Move your ankles and knees while resting to reduce your risk of post-operative blood clots from developing in the deep veins in your legs.
Apply a refrigerated moist washcloth to your face to reduce swelling for the first 72 hours following surgery. Direct ice-to-skin is discouraged as this may injure your skin.
Please shower with soap and water. Wash with shampoo daily while at home.
Wear loose-fitting clothing that does not pull over your head. Avoid turtlenecks or tight scarves as they may compromise the blood supply to your surgical sites.
The skin of your face is sensitive to sunlight after surgery. Protect your facial skin from excessive exposure by wearing a wide brim hat and sunscreen (SPF 30 or higher with UVA and UVB protection).
Cosmetics may be applied once the sutures have been removed, typically 10 days following surgery. This can include foundation or concealer to camouflage any bruising that may persist for 2 to 3 weeks post-surgery.
Your face and neck will temporarily feel tight but not necessarily look tight. There will be a feeling of numbness in your face and neck for a few weeks to months after surgery. This is normal, and the tight feeling and numbness will disappear over time.
It is important to follow up with your surgeon following your surgery. He will see you in a follow-up meeting at 1 week, 3 to 6 weeks, 3 to 6 months, and 1 year post-surgery. Please call

(416) 925-7337

to schedule your appointments at either of our Toronto or Oshawa locations.
Things to Avoid
Avoid flexing your neck for the first 2 weeks.
Avoid turning your head to either side, as this will pull on the stitch lines. To turn, move your head and shoulders as a unit.
Facial movements such as smiling and yawning should be kept to a minimum during the first week following surgery.
Avoid using a curling iron for your hair, as the skin on your face will be sensitive and contact could result in a burn.
Avoid colouring your hair for at least 3 weeks after surgery.
When drying your hair with a blow dryer, use a cool air setting.
Do not use hairspray, conditioner, or hair gels while your stitches and clips are in place. Wash your face gently, and when using a moisturizer, be careful to keep away from the stitch lines.
Scar Care
Apply a silicone cream (Kelo-cote) to your incisions twice daily (morning and night) starting at 6 weeks post-surgery and for a period of 3 to 6 months.
Massage your scars before the application of Kelo-cote twice daily.
Apply SPF 30 or greater to protect scars when outdoors. Wear a hat or keep your hair down to minimize the risk of scar hyperpigmentation.
Use ZO Skin Health products to reduce hyperpigmentation further and improve skin quality following surgery. Kelo-cote and ZO Skin Health products may be purchased from our office.
Emergencies
Call your healthcare provider or the ER if you experience any of the following symptoms after surgery.
Pain levels not relieved by pain medication
Acute onset of swelling on one side of your face or neck, significantly more pronounced than the other side
A fever (temperature greater than 38.5°C), redness, or increased pain at the site of your surgical incisions
Swelling and pain in your calves
Acute chest pain or shortness of breath
Nausea, vomiting, rash, shortness of breath, or diarrhea after taking your medication
Nausea and vomiting that prevents you from drinking or eating