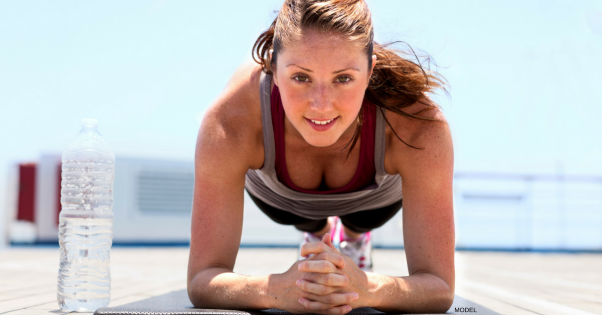 It is not uncommon for breast augmentation patients at our Toronto plastic surgery center to be eager to return to the gym after surgery. However, jumping back into your normal workout routine can cause complications and slow down recovery. Following proper post-op instructions is necessary for a speedy recovery and optimal results. This post will address timing on when you can resume exercising.
What happens if you exercise too soon after breast augmentation?
Even though you may think exercise will speed up your recovery, it may cause the opposite effect. Working out too soon can cause your implants to move, which can make your breasts look asymmetrical. Exercise can also increase swelling, bruising, and soreness.
Walking
Walking promotes good blood circulation, and I encourage breast augmentation patients to take short, moderate walks in the first week of recovery. However, it is important to not raise your heart rate too high within the first few days. Each day you can add a little more time to your walk. Easing back into your workout routine is key.
Cardio
You may gradually increase your activity level as your energy level returns. Be aware that it may take 1 to 2 weeks to return to normal energy levels throughout the day as your body heals and recovers from the stress of surgery. After a couple weeks you can begin incorporating light cardio activities, such as taking longer walks, walking on an incline on a treadmill, or cycling on a stationary bike. Once you have become accustomed to these exercises, you may begin using the elliptical and the stair stepper.
Strength
Avoid lifting anything over 10 pounds for the first few weeks—this includes children and groceries. After the first month, you can begin lower-body weight-training exercises, such as squats and lunges. However, you must wait closer to 2 months to start upper-body exercises. If you want a massage or have a chiropracter appointment after a strength training session, read our related post on massage after breast augmentation.
Swimming
You must wait at least 3 weeks to submerge your breasts in a bath, pool, or hot tub. Additionally, you should not swim laps or tread water for about 2 months after your procedure.
Sports
You should avoid contact sports during recovery. Although your breast implants are fairly strong, they are not indestructible. After 2 months when you are fully healed, you should be able to lead a normal life without any restrictions.
As you begin to start exercising again, it is important to invest in a supportive sports bra. This will help reduce movement, so you are comfortable while you work out.  A good bra can also help prevent sagging in the future. You can learn more about the breast augmentation recovery timeline from the American Society of Plastic Surgeons and read more tips for a smooth breast augmentation recovery in a related blog post post.
If you are considering breast surgery or another plastic surgery in Toronto, we're happy to discuss your options with you. Use our online form to request a consultation or call us at (416) 925-7337 to schedule an appointment.