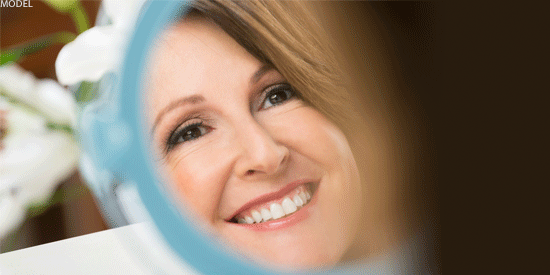 People considering facelift surgery sometimes mistakenly believe that the procedure has a rejuvenating effect on the entire face — from the forehead all the way to the jaw and neck. That's not the case, of course. A facelift addresses aesthetic concerns with the mid to lower regions of the face. When patients want to get that same effect and eliminate sagging skin higher on the face, I often recommend that they combine a facelift with eyelid surgery at my Toronto practice.
Our faces don't typically show signs of aging in only one area at a time. While a facelift elevates sagging jowls and smooths wrinkles in the area below the cheeks, droopy eyelids may still make you look older and more tired. This can leave facelift patients feeling like the results they have worked so hard to get are diminished, and that the effect is not as dramatic as they would like. Additionally, performing eyelid surgery, also called blepharoplasty, along with a facelift brings some unique benefits, as well.
Enhanced aesthetic results: You can see in before-and-after photos eyelid surgery patients that the combination of blepharoplasty and a facelift leads to especially dramatic results. On its own, a facelift doesn't address the upper eyelids or the areas below the eyes.
Reduced cost: Combining cosmetic surgery procedures in a single operation saves patients money because certain fees — such as the operating room cost — only have to be paid once.
Having anesthetic administered only once: Reducing both the number of anesthetic treatments and the time you spend under general anesthesia is safer for the body. And because the use of anesthetic generally incurs an hourly charge, it ultimately reduces the cost of your procedures.
Only one recovery: Limiting the inconvenience and discomfort following cosmetic surgery to a single recovery period is one of the most significant benefits. Instead of having to plan for 2 separate recoveries (which means getting time off work, arranging for help around the house, and interrupting your regular exercise routine), patients only have to deal with all of that once. And to clarify: The recovery isn't twice as long or significantly more uncomfortable when a patient decides to combine procedures.
For some patients, the benefits of having eyelid surgery exceed just the cosmetic improvements. As I mentioned in an earlier blog post, upper eyelid surgery is sometimes necessary because a patient's vision has become partially obstructed by saggy eyelids. (In cases where there's a severe obstruction, insurance will cover some or all of the cost of your procedure, as well.) Droopy eyelids can also lead to forehead muscle strain, causing headaches and increasing wrinkles.
Deciding whether to combine a facelift with blepharoplasty is a choice I will work through with you. It isn't necessarily the appropriate surgical plan for everyone. But for many patients, the results of the 2 procedures complement each other nicely, erasing years from their faces.