With good reason, facelift surgery at our Toronto practice and around the world routinely prevails as a popular option for cosmetic facial rejuvenation, but it's important to have a clear understanding of its virtues—and limitations. Briefly, these are the common concerns that facelift surgery can remedy, as well as the occasions when another option may be more appropriate.
When a Facelift Is Right
The primary reason for the facelift's ongoing popularity is its amazing ability to target the most significant age-related complaints of most people. (You can see those amazing results in our patients' facelift before-and-after pictures.)
Time and time again, my patients say that they first noticed facial aging along their jawlines and around their mouths. Ideal facelift candidates have a few things in common:
They're primarily concerned with the aging of the lower two-thirds of the face.
They're bothered by sagging skin in the cheeks and jawline.
They have a strong, intact bone structure that can withstand changes created by surgery.
Other strong indications for a facelift include the development of neck bands, which happen as the platysma muscle gradually becomes more lax and progressively creates deeper facial creases in areas such as the nasolabial folds and marionette lines.
That said, aging leads to many changes in the face, and not all of them can be solved with a facelift.
When To Consider Other Procedures
Facelift surgery isn't intended to improve the upper portion of the face or add a significant amount of volume. That's where other procedures come in.
Blepharoplasty, or eyelid surgery, is a popular option for Toronto patients looking to smooth and lift the upper or lower eyelids. Good candidates for blepharoplasty often say they look overly tired because of bags under the eyes and sagging skin that obscures the upper eyelid (sometimes to the point of interfering with a patient's vision). This is probably the procedure that is most frequently combined with a facelift, and you can learn more about it in our related blog post. The patient featured in the before-and-after photos below has received a blepharoplasty, not a facelift, and the results are still transformative.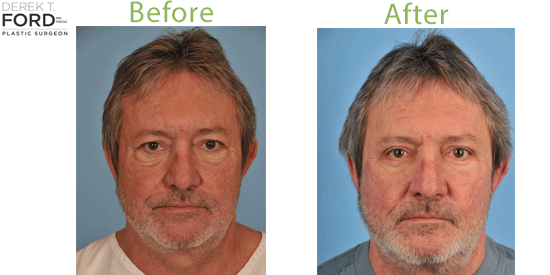 Chin augmentation uses a firm implant to add volume and definition to the chin. This has a big effect on the patient's profile view. Interestingly, many patients who come in dissatisfied with their profiles want to have a neck lift, but a chin implant is often the better choice because it lengthens the jawline and creates more pleasing proportions.
Brow lift provides a subtle lift to soften a heavy or sagging brow. Patients who benefit from a brow lift generally have deep lines across the forehead. Sometimes a sagging brow can also begin to encroach on the upper eyelids. Even though the lift is subtle, it can produce noticeable rejuvenation, earning a 90% 'worth it' rating on RealSelf from men and women who've had the procedure.
Fat grafting uses your own fat to add soft, natural-looking volume to certain areas of your face, such as the cheeks. Other nonsurgical options, such as dermal fillers, can also add volume, but fat grafting has the advantage of permanent results.
Each of the above procedures can be performed on their own or in conjunction with a facelift. The right option depends on the specific needs of each patient. During your consultation, we'll go over each of your areas of concern and discuss other factors such as your lifestyle, which can help us determine the right procedures for you.
If you want to learn about your best options from an experienced facelift surgeon in Toronto, request a consultation using our online form or call us at (416) 925-7337 to schedule an appointment. We look forward to helping you achieve your goals.