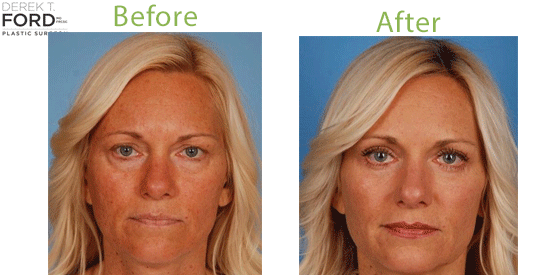 Many patients express general dissatisfaction with the area around their eyes, but they're somewhat unsure about how to improve their appearance. A few factors lead me to recommend eyelid surgery, a brow lift, or both for our Toronto patients.
Sagging Forehead or Excess Skin?
When patients are concerned about an overly angry or tired look, we first determine the cause. A sagging or drooping forehead can obscure the eyelids and make patients look as though they have a perpetually furrowed brow. This makes a patient a good candidate for a brow lift.
With eyelid surgery, on the other hand, excess skin or bags around the upper or lower eyelids are the main contributor to patients looking older than they feel. You can see in the before-and-after image above, the patient had extra skin around both her upper and lower eyelid, but her forehead skin was not sagging. A blepharoplasty surgery was able to treat her needs without a brow lift.
Advantages to Both
It's quite common to combine these procedures, and there are a couple reasons for that. First, both surgeries address consequences of aging in the orbital area, and those consequences seldom happen in isolation. Correcting one area without addressing the other can sometimes produce an unbalanced look. On the other hand, combining the two often produces more dramatic results than either procedure on its own. And because the incisions for both procedures are discreet, scarring should not be a concern.
Additionally, the removal of excess skin in an upper blepharoplasty naturally pulls on the brow, which can cause the brow to descend a bit. Performing a brow lift at the same time is a way of safeguarding against this.
Complementary Procedures
In some cases, patients may have hollowing around the eyes. We can address this in conjunction with blepharoplasty by either adding fat to the area or using a hyaluronic acid-based dermal filler, such as Restylane®.
It's also common to combine blepharoplasty or brow lift with a facelift, which can address sagging skin and wrinkling on the lower face, and further enhance the patient's results.
One Last Word of Caution
While these guidelines can help you better understand the benefits of each procedure, it's also important to consider the whole orbit (i.e., the brow, the upper eyelid, and the lower eyelid) when making a decision. Look to your plastic surgeon for advice on how either procedure will affect the appearance of the region.
I would be happy to examine your face and help you decide what makes the most sense for you. If you'd like to have a consultation, please contact us and we'll be in touch soon.