If you're concerned about having a "double chin," you've probably read a lot about nonsurgical treatments that promise to create the sculpted jawline that both men and women desire. While I encourage patients to choose the least invasive option that achieves their goals, in most cases I recommend reducing the appearance of a double chin with a neck lift to the people who visit my Toronto and Oshawa, ON, practice.
Treatments Depend on the Cause of a Double Chin
Patients ask about injectable or noninvasive procedures to treat double chins. Of course, the precise cause of someone's double chin determines the optimal treatment. For example, some patients in their 20s may have a double chin because it's a trait that runs in their families. More common, however, are older men and women whose double chins develop as part of the aging process. These different causes require different treatment approaches.
How Aging Contributes to a Double Chin
The signs of aging that lead to a double chin include:
Diminished elasticity of skin on the neck
The loss of bone along the jawline, along with reduced fat
Muscle separation
Unlike younger patients whose double chins are caused by submental fat (beneath the chin), older patients experience more sagging because their skin has lost its elasticity. A good example can be seen in these before-and-after neck lift photos: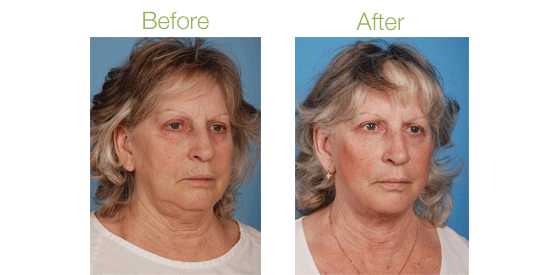 You can see other neck lift before-and-after photos in our photo gallery.
Nonsurgical Treatments Aren't Right for Everyone
Nonsurgical treatments, including BELKYRA® (called KYBELLA® in the U.S.), and procedures that use extreme heat or cold to reduce fat, don't tighten the skin. In fact, reducing fat can exacerbate the neck's sagginess. A neck lift tightens skin and muscle, creating the sleek neckline that patients want.
Even more important, a neck lift provides long-lasting results that are more dramatic than those produced by nonsurgical procedures. I often perform neck lifts along with facelift procedures for more complete facial rejuvenation (learn more about facelift benefits in this blog post).
If you'd like to talk with me about neck lift surgery and other facial rejuvenation procedures in Toronto, contact us online or call (416) 925-7337 to schedule a consultation.